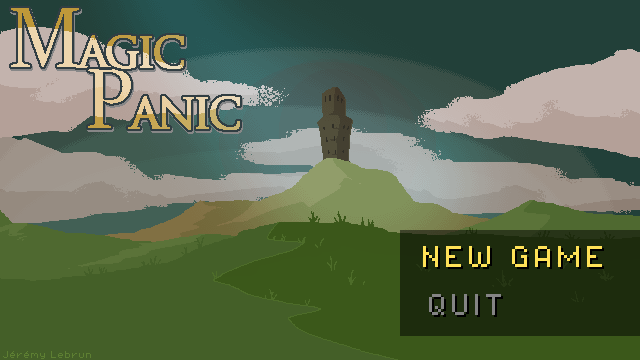 Magic Panic
A downloadable game for Windows, macOS, and Linux
In MagicPanic, you play an evil wizard in his dungeon.
An army of adventurers are coming to try to kill you. It's up to you to stop them with your magic powers.
MagicPanic is a shoot 'em up with many possibility :
- You can increase your powers by gaining levels.
- Kill enemies to win XP.
- Collect items to increase your chances of victory.
- Use your shield with with intelligence.
- 5 different types of enemies.
- 6 power-up. (4 for the shoot, 2 for the shield).
- A dark potion with special power.
- Around 15 waves of enemies.
Good game !
---
Keys :
ARROWS (OR WASD/ZQSD) : move.
SPACE (OR ENTER OR 1) : shoot
ALT (OR 2) : shield
ESCAPE : power menu or pause.
---
Game made for the Ludum Dare 37 Compo with LibGdx (Java requiered), Bfxr for sound, CgMusic and Photoshop.
Link on Ludum Dare : http://ludumdare.com/compo/ludum-dare-37/?action=preview&uid=7308
Download
Download
http://jeremy-lebrun.fr/magicpanic/MagicPanic.jar